Whitney here, stepping in for Marilyn while she's off escorting a fantastic WOW! group around her favorite country, Ireland.
She had sent an email to the office this week stating:  "This trip is amazing. The experiences have been beyond fabulous – I think I want to move here…"
We may have an Irish satellite office by the end of this trip.
---
 This month, I had the very special opportunity to visit Sweden on a FAM – or "familiarization" – trip with the tourism bureaus of Sweden, Stockholm, and Luleå (located in the subarctic Swedish Lapland), as well as SAS Airlines promoting their new nonstop flight from LAX to Stockholm.
These FAM trips are wonderful opportunities for us planners to visit destinations we might not be as familiar with, or maybe have not visited in quite some time.  We have the chance to see and experience different options for our clients, gaining expertise and knowledge to confidently recommend certain places for the right groups.
Truth be told,  I was not expecting to love it as much as I did.  I figured it would be a fun trip, but Sweden was never on my bucket list.  
I promise this is not just the post-trip high talking . . . but I could easily pick up and move there today (another CTP satellite office?).  This country totally and completely won me over!  With Stockholm – a picturesque, cosmopolitan, classic yet modern city with amazing food and friendly locals; and Luleå – a charming location with endless adventurous activities.
As much fun as these trips are, they are also whirlwinds with absolutely no free time.  After all, the goal is to explore as much of the destination as possible!
Allow me to walk you through our very very packed, 4-night tour of Stockholm and Luleå . . .
LAX Airport
March 16th, 12:30 PM
I arrived to the airport to meet my group for the first time.  Turns out, I knew everyone but 1 of our small pack of 5!  Our flight was officially the 3rd direct to Stockholm after the launch of the new route.  The planes look brand new and the seats were very comfortable.  On top of that, the team onboard was friendly and attentive!
SAS Airlines has an interesting history with LAX.  They operated out of LA for many years before canceling their partnership with the airport about 20 years ago – ultimately because it was no longer profitable to fly direct to Scandinavia from Los Angeles.  However, SAS was the very first airline to pioneer the arctic route that is so routine today – from LAX to Copenhagen.  There was a lot involved in safely conducting this flight path – such as making sure the equipment could operate in such frigid conditions, mapping the uncharted Northern territory and creating a compass that could operate in the high latitudes.  This was such a momentous occasion, that there was a commemorative rock honoring SAS displayed outside of the Tom Bradley terminal for many years before moving to the airport's Flight Path Museum.
Stockholm
March 17, 12:15 PM
Welcome to Stockholm!  We got off the plane, passed quickly through security, and were greeted at baggage claim by our lovely hosts Magnus and Malin.  We hopped on the Arlanda Express train, arriving to the city center in a mere 15 minutes.  Our walk continued maybe 3 minutes to the Sheraton Stockholm where we checked in to very comfortable and spacious 8th floor rooms overlooking the city islands.  None of us wanted to slow down, risking a mid-afternoon crash, so we quickly congregated back down in the restaurant for a delicious Swedish buffet lunch.  After filling up, Magnus offered to tour us around some of his favorite parts of the city.  Our itinerary didn't give us a great deal of time in Stockholm, so we wanted to see as much as possible!
Spacious room at the Stockholm Sheraton
View from my patio
We hopped in a taxi and made a pit stop at an amazing viewpoint overlooking all of central Stockholm.  This gave us a beautiful perspective on the city layout.
From there, we traveled to the used-to-be-scummy-now-very-trendy SoFo neighborhood – popular for it's many coffee shops, record stores, hip boutiques and dining.  We learned all about "Fika" – a break any time of day (but typically afternoon) for coffee and pastry.  The Swedes love their sweets, and they love their Fika.  It's a very important ritual for them to take a break from the stress of the day and relax with a favorite treat.  Cardamom and cinnamon rolls are the classic choice (and much different than our cinnamon rolls in the States)!



Our relentless group had already covered a good deal of ground considering we had just gotten off the plane.  A meandering walk through the cobbled streets of old town Gamla Stan led us back to the Sheraton where we finally gave in and napped.  We still had a big night ahead of us … a second group of about 15 UK planners were flying in to join our trip.  We had to be on our A-game for a cocktail reception and dinner with 25 local vendors, all on about 2 hours of sleep!
Stockholm to Lulea
September 18th
I woke up to a beautiful view of the city, and another busy day ahead.  It was a little chilly in Stockholm, about 38 degrees F. Today, we were hopping on another flight to the subarctic city of Luleå, with temperatures coming in at just below freezing during the day.
There was no slowing down for us … we saw as much of Stockholm as possible before our 4:00  PM flight.  The day began with a few venue and hotel visits, however the highlight of the morning was our stop at the uber-fascinating Vasa Museum.  This place wasn't voted Tripadvisor's #9 2105 best museum in the world for no reason.  It's a 17th century ship that sank in 1628 after sailing approximately 20 minutes on it's maiden voyage around Stockholm bay.  A mere 333 years later, Vasa was pulled from the sea bed to become the near perfectly-preserved warship we see today.
We tried our best … but absolutely no one is allowed to set foot on the ship besides researchers, the lucky few staff members and of course royalty or important world dignitaries when they pay a visit – such as the Swedish royal family, and most recently Prince Charles.



After the Vasa left us speechless… (and of course after a Fika break) we moved on to our last stop before heading to the airport:  the hip and very colorful Pop House Hotel, with the adjoining Abba the Museum.  I'm secretly but not so secretly an Abba geek and this place was my jam.  If you're looking for a museum to act like a kid again with no judgement, this it it.  The museum was fun, colorful, and interactive with Abba Karaoke, "star in your own Abba music video", and "be the 5th member of Abba on stage" activities, to name a few.  For those who want to remember their 15 minutes of Abba fame, the tickets scan and and save all your performances via barcode.  Yes, I sang karaoke and made a music video – No, I'm not sharing it.
As bad as my vocals were, it was SO. much. FUN.



Following that unique experience and a delicious lunch at the Pop House Hotel, we transferred to the same airport we had just flown in to 24 hours before … on our way to Luleå!
The flight was a quick hour, directly north to a stunning ice-covered wonderland.  After coming from the grand city of Stockholm, the town of Luleå was charmingly humble.  There is not a 5 star hotel up there, but if you've come to stay in your hotel, you've come for the wrong reasons.  Lulea is an outdoorsy paradise with so much excitement to be found out on the ice.
Our hotel for 2 nights: the lovely, Elite Stadshotellet Luleå.




We got settled in our accommodations, and returned to the lobby to "gear up" for our subarctic activities.  They outfitted us in these flattering snow suits….
Dinner that night was "on ice" – specifically "on ice covering the Baltic Sea."  We arrived at Brandon Lodge and walked about 5 minutes to a lonely teepee set up in the wide open space over frozen sea.  It was a surreal feeling being on top of a large body of water, and realizing the patches of trees in the distance were covering offshore islands that I could easily walk over to.
Photos credit to Andre Landeros Michel


The teepee was nice and cozy with a central fire to warm us up.  We enjoyed hot lingonberry juice (spiked with vodka), I tried reindeer for the very first time (delicious and surprisingly un-gamey) and the blueberry pie topped with meringue still frequents my dreams (best dessert I've had).
We were having a lovely time inside until someone left the tent and started yelling for everyone to come out.  We dropped everything (lie: I took the blueberry pie) and hustled outside to see what the fuss was about.  The sky, that had been cloudy in the afternoon, completely cleared and gave way to an awe-inspiring display of northern lights.  None of us were expecting to see such a vibrant show, and we ended up standing out on a snow bank to the point of freezing watching wave upon wave of the Aurora Borealis.  I've never seen anything more beautiful.


Lulea
September 19th
The day started with a trip to Gammelstad Church Town – a UNESCO world heritage site.  In the 15th century, going to church was not just a full day's journey, but a full weekend for some.  With only one church in the area, some families had to travel relatively far just to make it to service each Sunday.  The church town was built to house those families who were not able to make the trek back after worship.
Today, it's the world's best preserved church town, and truly a step back in time with it's quaint, bright-red cottages.  In fact, they are still privately owned and in use!  Families will come out to stay during holiday or for the very popular Midsummer celebration which rivals Christmas.
From there, we visited an adventure lodge deep in the forests outside Luleå.  We competed in a ice kart rally that looked like something straight out of Mario Karts.  There was also a disconnected Volvo (steer right, go left) that we had a fun time driving across a frozen lake.
Another WOW event awaited us in the evening, again having to do with ice … but this time, Ice Music!  A concert hall carved out of ice with musicians performing on instruments completely made of ice.  We were lucky to catch the very last concert before the end of season.  As spring comes, the venue disappears, and eager patrons must wait until next winter's sub-zero (celsius) weather to hear the sweet sounds of ice music again.


Lulea to Stockholm
September 20th
Our short time in Luleå had come to an end.  However, if you think we had some downtime before our 2:30 PM flight, you clearly haven't been following.
We checked out of the Elite Hotel and transferred back to Brandon Lodge for an exciting morning of snowmobiling and dog sledding across the Baltic Sea!
Whitney – a southern California girl – went snowmobiling in Sweden!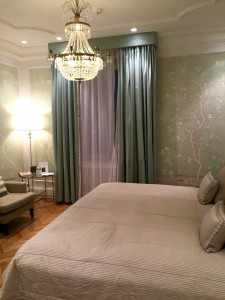 Back in Stockholm, we checked into a different property – this time the iconic Grand Hotel. This hotel was glamorous, classic and everything you would expect from a 5 star Stockholm institution.  Sleeping rooms are decorated with lovely wallpaper and stunning chandeliers.  No corner was left undetailed… even the meeting space was covered in wall-to-wall ornate gold trim.
This was our last night traveling together as a group, and it was only fitting to enjoy a traditional Swedish smörgåsbord together at The Grand.  We were joined by our friends at Visit Sweden and the Stockholm Tourism Bureau.  By that point, we had all become close friends and travel companions.  Dinner was filled with laughter, stories and schnapps (…when in Sweden!).  No one wanted to think about leaving the next morning.
Stockholm to US
September 21st
Our group left on a 9:30 AM nonstop flight back to LAX.  I stayed behind to explore Stockholm one more day and then continued on to Copenhagen.
Even though we had only travelled together for a very short period of time, we shared so many wonderful memories.  These trips are such a great reminder of how transformative travel can be.  When you have a group experiencing a destination and new adventures together, you bond and share unforgettable moments that will always hold a special place in your heart.
This is why we do what we do – and why travel incentives and meetings are powerful elements to a successful business.
The dynamic destination of Sweden has a great deal of experiences to offer.  In just a short hour, you can travel to an extremely different destination with adventures that have the ability to create lasting memories and connections.  I have no doubt in my mind that Sweden would make an amazing winter incentive trip, summer incentive trip, meeting, family vacation…  I say just travel here for any reason.  Period.
I only ask that if you go, you take me back with you!
P.S. we came up with our own hashtag to commemorate the trip: #SwedenSoGood (and #StockholmSoGood, #LuleaSoGood).  Feel free to use them on your future travels to Sweden, and share your favorite photos alongside ours!
(upper middle, right and lower right credit to Andre Landeros Michel – our very talented photographer and travel companion)