Got up at 3:01 A.M. on Thursday so I would not miss my 6:30 A.M. flight.
(If you're one of the few people in my life who are unaware of my propensity for missing flights, you might not understand the significance of that.)
Left home at 3:46 A.M. and breezed to LAX in record time, as one would expect to do at that ungodly hour – but which doesn't always happen. I took my 10A seat on UA#247 and fell asleep just after takeoff. It's now 10:28 A.M. and I woke up to the announcement that we'd be landing at Newark Airport in about 45 minutes. Oops, I was going to spend these in-flight hours writing my blog.
I'm so glad I fell asleep. Not only because I needed the rest, but secondly, because I am now writing something different than what I had planned for this blog.
It's now 5:16 P.M. and I've just checked into the Black Bass Inn, on the Delaware River in Buck's County, Pennsylvania. WOW!
I've been transported into another world. The 90-minute drive here on I-78 was lined with verdant greenery on both sides of the freeway (I think they call them expressways here). Not a billboard, gas station or fast-food joint in sight. Then I exited onto county roads which were lined with horse farms, charming old homes, barns and inviting antique shops. I saw a church steeple peeking up through the trees and turned onto the road leading to Bethlehem Presbyterian Church. The current structure was dedicated in 1871, preceded by three structures dating as far back as 1738.
The last ten miles were particularly picturesque, crossing over the Delaware River on a one-lane bridge. I'm staying two nights at the Black Bass Inn. Circa 1745 (that's the year, not the time). There are nine lovely suites here, most with balconies overlooking the Delaware River. That's where I sit right now, writing this blog on a summerlike evening (it was 95° here today!).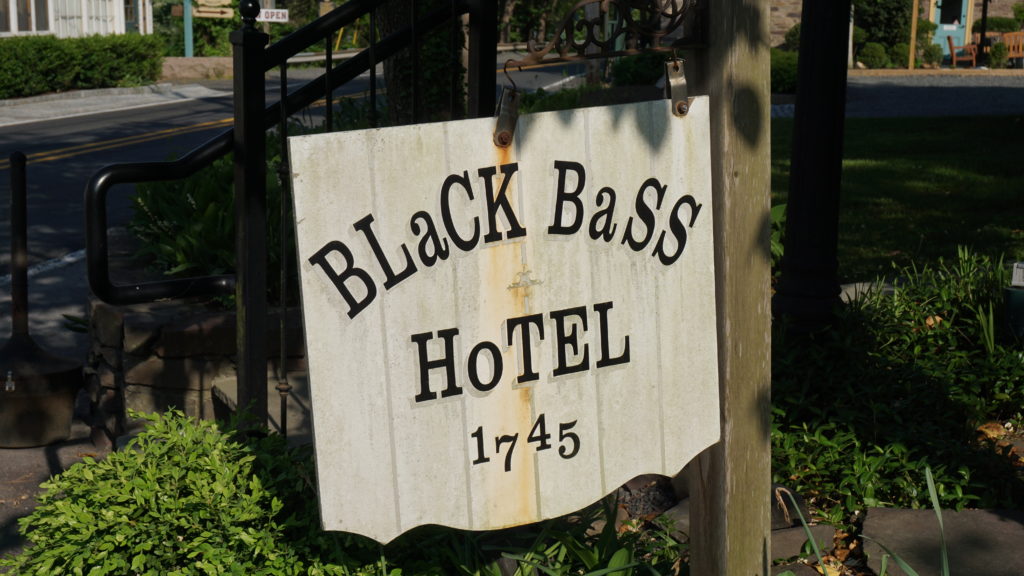 But the list of celebrities who did sleep here includes President Grover Cleveland, Liza Minelli, Ethel Merman, Marlon Brando, Carlos Santana, Christian Slater, Marc Blucas, Diane Sawyer, Martina Navratilova and, now, me! A film shoot with Nicole Kidman and Bryan Cranston wrapped a couple of months ago. Ghost sightings are not infrequent.
I'm staying in the Major Fry suite. Major Anthony Fry was the innkeeper in1831 who saved the place from complete destruction when, after a fire broke out, removed a huge quantity of gunpowder that was being stored in the cellar. Thank you, Major Fry!
After three "floods of the century" in the early 2000s, the Inn was purchased at auction in 2008 by Jack Thompson, owner of several local auto dealerships. He and his family had frequented the place for years and wanted to restore the beauty and retain as much of the hotel's history as possible. And so it is that I have arrived in this gem of a hideaway, as a guest of Laura Thompson Barnes and her husband, Jeff. I've traveled with Laura and Jeff on many incentive trips sponsored by a Philadelphia radio station for their best advertiser clients. I've always been blessed with the greatest clients and travelers, and am doubly blessed when those brief journeys are the catalyst for long-lasting friendships. So it is with Laura and Jeff, who have been encouraging me to come visit for years!
And here I am at last!
Our friendship was forged in 2006 when I took the group to Monaco. Jeff took it upon himself to encourage group participation in a "naming competition" – a tradition which continues to this day! That year, we became the "Monacans" and the following year, when we went to Portugal, we were the "Lisbians (not that there's anything wrong with that)."
Last evening, we sat on the deck of the Black Bass and retold travel stories and laughed and laughed and laughed. In 2008, the year of the "bloody red meat," (which I documented in a 2015 blog story) we visited Barcelona and Mallorca. On Mallorca, our local tour guide kept talking about how we would be seeing the home of Robert Graves. (We thought she was saying Robert "Grapes"). Over and over and over, we heard the name mentioned with reverence. Not a single one of us knew who he was, and – in those days before google became a verb – we dared not burst her bubble to ask the question. It became a running joke within our group. (Turns out he's a famous British poet.)
Laura showed me around the property, folding back a door to reveal a floor-level, trompe l'oeil painting of their beloved Golden Retriever, Munson, who died last year. The pewter bar in the Tavern is from Maxim's of Paris.
We dined at a quintessential country inn, just down the road a bit from the Black Bass.
Today (Friday), I'll be joined by Susan Rosenberg, a dear friend from New Jersey – who has traveled with me on many adventures. We'll do some exploring and antique shopping before another wonderful evening with more treasured friends – David & Jamie Yadgaroff from Philadelphia. David is my client from KYW Newsradio, with whom I've enjoyed many magnificent journeys all over the world.
There are so many wonderful aspects to traveling – but, by far, the very, very best are the friends I've gathered along the way!
---
Comments? Stories of friendships you've made on your travels?