I'd been in Croatia and Slovenia for 2+ weeks, leading an amazing journey for a merry band of WOWees onboard a lovely chartered cruise ship along the Adriatic coast and to some great hotels during the week-long land extension.
Circumstances required me to stop over for a few nights in my hometown of Saginaw, Michigan prior to returning home to Los Angeles.
If you've followed my blog posts for any length of time, you'll know that I have a somewhat tortured relationship with my hometown. From my earliest memories as a child, I couldn't wait to leave that place. I did move away and, as you know, have been to some of the most wondrous places in the world since I embarked on my travel adventures about 40 years ago. When people ask about the city where I grew up, I sometimes describe Saginaw as, "… much like Flint, but with better water."
Although I risked incurring a family curse by deciding to not stay with relatives, I needed some privacy to recover from jet lag and just "come down" from my two weeks of magical sights and experiences in Europe.
I asked my VP, Gabriel Haigazian, to book me a hotel for a few nights. Preferably, at a discounted industry rate. There's not much to choose from in Saginaw, but he got me a good deal at the Carlson Country Inn on Tittabawassee Road. He said it was #3 on Trip Advisor. (Actually, it was #11, but who's counting?)
Driving north from the Detroit Airport, I stopped for a quick dinner of fried chicken at world-famous Zehnder's in Frankenmuth.
A short while later, arriving in Saginaw, I checked into my hotel. This was my first impression:
And my view . . . unforgettable!
I do appreciate the wonderful cloudscapes in Michigan, and if I needed bug spray, Lowe's would be convenient.
I was particularly fascinated with the Gander, Inc. Firearms Super Center in the foreground. It would be pretty handy if I had needed to kill myself. For the entire 36 hours I occupied room 220, I never saw a single car in their parking lot or a person coming or going into that gun store. I even drove by at one point to see if they were open. They were. I was almost going to have an adventure by making a visit, but I was – frankly – chicken. Given their lack of customers, it might have been an illegitimate storefront for some drug cartel. And, I figured that they wouldn't appreciate this looky-loo California pacifist browsing the aisles with a camera taking pictures for her blog!
I sent a message to my team about my luxurious digs – just in case they ever think the boss is too big for her britches. My comments and photos provoked lots of back-and-forth communiques, to the point that I questioned if they had enough work to do!
Someone in the office asked if the Michelin chef was any good. I sent them this photo:
One morning, I walked across Tittabawassee Road to the IHOP for breakfast, I was taken aback by the cover of the menu:
It was only slightly more than a week before that I was feasting on a wildly creative dinner at one of Croatia's finest restaurants, Boskinac Winery. Anthony Bourdain featured this place in a TV episode, and our group bought out all eleven guest rooms on property. We enjoyed a 12-course tasting menu that featured among other things, a Baked Scallop with Rosemary Smoke which wafted out when we lifted the lid on the jar.
The night before our decadent meal at Boskinac, we had dined at a lovely restaurant called Zrno Soli, overlooking the marina in Split. My favorite course was the baby-beef carpaccio on homegrown arugula.
Another memorable meal was enjoyed after we'd gone truffle hunting in an oak forest outside the medieval town of Motovun:
And then there was an unforgettable Curry Cappucino Soup with Adriatic Scampi that was our starter at Restaurant 1906 with a view of world-famous Lake Bled in Slovenia. It was so good that we demanded the recipe from the chef!
Speaking of views – this was sunrise from my hotel balcony on my final morning in Croatia:
Picky? Me? Noooo, not really. My room at the Country Inn was spacious and quiet. The wifi was fast and free. Water pressure good, despite the threadbare towels. I didn't actually look under the bed, but I don't think there were any dead bodies under there. And, did I mention the price? At $37/night – the price was right!
::
On the morning of my departure, I posted this on Facebook: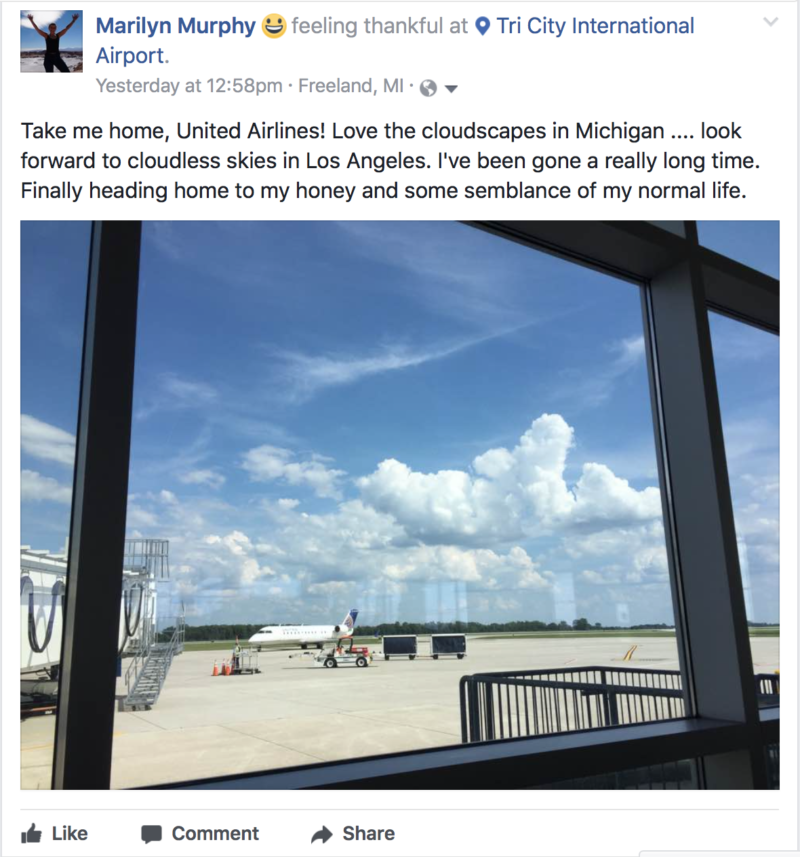 One of my WOWees commented that the cloud formation looked like a propeller plane. Kinda like my WOW logo!