I'm going to date myself with this one.
The subject of luggage came up the other day at the office when Ellen shared that she'd recently purchased a carry-on with spinner wheels, guaranteed to fit under an airline seat.
We got to reminiscing about luggage – about how cool it once was to have a matched set of luggage and how she spent hours playing with her mom's makeup case when she was a young girl.
That was my cue to share this story . . . (forgive me if you've read this in a prior installment, but I haven't written about this for awhile):
In the summer of 1978, several months after college graduation and after grudgingly moving back home to Saginaw, Michigan because I couldn't find a job, I had accepted the invitation of my best friend to meet her in the Philippines, where she was a Peace Corps volunteer. Once she was finished with her assignment in the fall, we would travel together through Asia.
This would be the most thrilling and exciting thing I would ever do. I'd never traveled internationally before (assuming Toronto doesn't count), so I had done some careful research to prepare myself for the adventure. I applied for my first-ever passport and booked a one-way ticket to Manila. I bought a navy canvas suitcase, trimmed in brown vinyl, and splurged on the matching shoulder tote. Every guidebook and magazine article suggested mix-and-match polyester coordinates that didn't wrinkle. I loaded up on extra batteries and film for my Kodak Instamatic camera.
About $3,000 of American Express Traveler's Cheques fit neatly into a pouch that I stitched together and pinned into my undies. (I told you I was dating myself: in those days you could graduate from college and still have money in the bank!)
I landed in Manila in early September. Hot, stifling, muggy Manila. Barbara met me at the airport and suggested we walk away from the chaos and congestion of the main arrivals area to find a place where the taxis would be cheaper. She carried the shoulder tote and I schlepped the suitcase. After a couple of blocks, I was dripping with sweat and my arm was coming out of its socket. (I told you I was dating myself: in those days suitcases didn't have wheels!)
It didn't take long for me to realize that I was poorly prepared for the journey. Polyesters were impractical for the tropics (duh!) and a suitcase was just plain stupid. I knew we'd be traveling on a budget, but had not realized that our standard of hotels wouldn't have elevators, or that we'd walk many blocks to save money on transportation. What I needed was a backpack, but they were not for sale locally. Obviously, locals didn't need them and (presumably) foreign travelers were smart enough to arrive with their pack on their back already. (And, of course, there was no Amazon Prime from which to order.)
The clothing problem was easily solved. I bought a couple of peasant skirts and a few cotton shirts. Gave most of the polyesters away, although I don't know who would want them in that oppressive heat. As for the suitcase dilemma, I met a guy named Phil who was heading home to California. He loaned me his H-frame backpack in exchange for a canvas duffle bag I bought him in the local market. "Just send it to me when you get back to the States."
I packed up the rest of my impractical (but wrinkle-free) clothes, sensible (but stupid) shoes and souvenirs I'd acquired and shipped it all home to Michigan in the blue canvas suitcase and matching shoulder tote. I added a big note, "DON'T WORRY, MOM!"
She didn't take my advice. My parents worried about me for the next several months until I finally ran out of money and returned home. The Customs agents at Detroit Airport – after seeing the places to which I'd traveled – did a very thorough inspection of that backpack, including tapping the hollow aluminum frames to ensure I wasn't smuggling drugs into the country!
As for that navy suitcase and matching shoulder tote, they were probably stored up in our attic somewhere, but I never used them again.
---
Writing this post got me wondering about wheeled suitcases. They had certainly invented wheels by 1978, so why had nobody thought to attach wheels to a suitcase? So I googled it and learned that Bernard Sadow was lugging two heavy suitcases through an airport in Aruba in 1970 when he noticed a worker rolling a heavy machine on a wheeled cart.
He said to his wife, "You know, that's what we need for luggage." When he got home, he rigged a big suitcase with casters off a wardrobe trunk and attached a strap. "It worked," he said. But his invention, for which he holds US patent No. 3,653,474, was not an overnight success.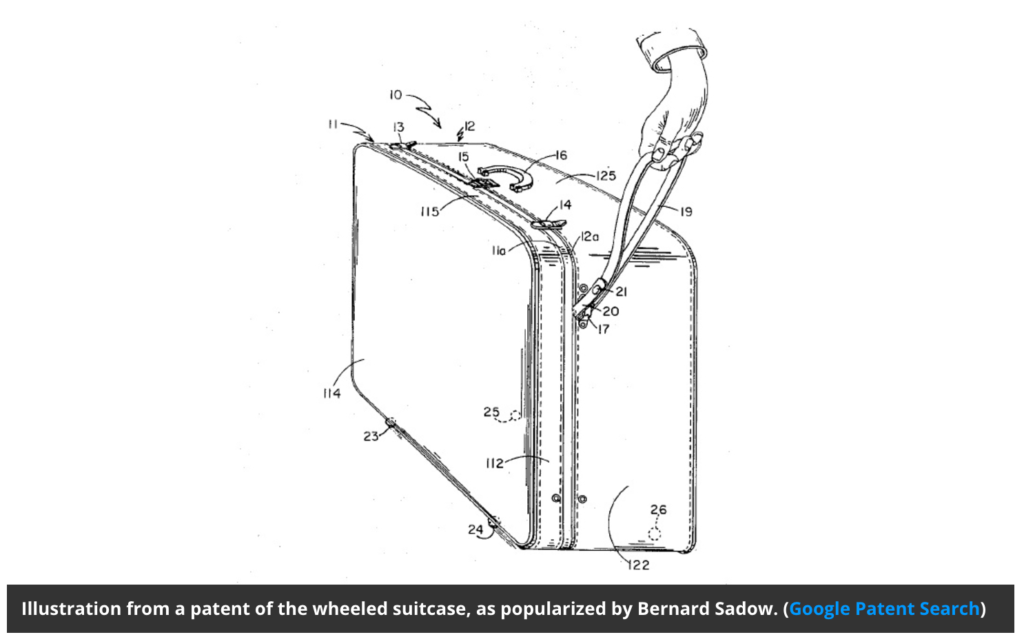 For many months he showed his prototype to department store buyers who were unimpressed. "They told me that men would not accept suitcases with wheels. It was a very macho thing."
Finally, Macy's ordered some and began advertising "the Luggage That Glides." They took off.
Since there was no Macy's in Saginaw, Michigan, wheeled luggage wasn't an option for me in 1978. It's a good thing because I have a great story to tell as a result!
Now, if they'd only invent "Self-Packing Suitcases!"
---
Several years ago, I posed with my mother's old suitcase for a headshot to use on my business cards. I added the stickers for a little color and interest, but other than that, it's as vintage as they get. The photo in the center was from a journey my mother made with four girlfriends – to the wild, wild west – in the summer of 1941. I assume she used that same suitcase … 70 years prior to my photo shoot!
My mother died before I found her photo album documenting her trip out west with "the girls." That surely was a gutsy, uncommon adventure for five young women on their own in the early 40s. Hmmm … I wonder if her mother worried about her?
---
Comments? Do you have a suitcase story to share?