Baja Eco-Adventure – 2016
Jacques Cousteau called it the "world's aquarium" and "Galapagos of North America."
The place? The Sea of Cortez in Baja.
The experience? Magical!
It was a short flight to San Jose del Cabo (Mexico) from where we transferred to the delightful, non-touristy town of Todos Santos (avoiding Cabo altogether – and never missed it!).  A couple of fun nights here, and then to a remote stretch of beach on Isla Espiritu Santo, then across the Baja Peninsula to Magdalena Bay, where every winter hundreds of gray whales give birth in the shallow, salty water. Then, back to Todos Santos.
Lots of moving around? Yes, but it was all SO worth it! The remoteness of these places is the reason why they're so pristeen and special!  WOW! – what an amazing adventure we had!
Highlights:
Todos Santos
We took a walking tour to learn about the history of this town – which was founded by the Jesuits in 1700 and prospered for many years from sugar production and export
We had the 'world's best' tamales at Miguel's – a favorite local joint
At Los Colibros, our lovely boutique hotel overlooking the ocean, we had a cooking lesson with Chef Iker who shared his secret ingredient for particularly delicious margaritas
For our final night, we stayed a night at the historic Todos Santos Inn,
Sea of Cortez
We snorkeled with whale sharks, the largest fish on the planet
We snorkeled with baby sea lions who frolicked and played with us in their underwater world
We camped in comfort on an isolated beach on Isla Espiritu Santo, enjoying free time to hike in the canyon, kayak the aquamarine lagoon and learn how to stand-up paddle board
Since there's no light pollution, before retiring for the night, we gasped in awe at the star-filled sky pierced by shooting stars, and the gently lapping waters which sparkled with bioluminescence – like underwater fireflies!
Magdalena Bay
We ventured out in a small fishing boat on two 3-hour excursions to have interactions with the mama & baby whales – who came right up to our boat for a scratch on the nose!
What our WOWees have to say: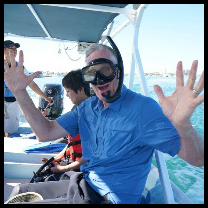 Don Riddell & Sharon Valdez:
"I can't put into words what it feels like when a whale comes up to you and allows you to pet it, expect maybe to say, "wow" – which I did a LOT! And swimming with whale sharks, walking on a sandy beach without another person for 70 miles, snorkeling with sea lions, witnessing amazing sunsets – every day was more amazing than the last."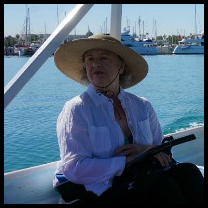 Jill Stoliker:
"Time spent in nature has always given me an inner peace. At Isla Espiritu Santo, where I watched the orange sunset on the purple sea as the light of billions of stars finally reached my human vision can surely be called the fulfillment of a "vision quest". I have been whale watching many times; however, I have never been whale petting! I felt such a deep feeling of forgiveness for the centuries of systematic, planned extermination of whales by humans. I've traveled a great deal, so it came as a surprise that I was achieving so many, "new" experiences on the Baja ECO-Adventure. I most certainly want to take this tour again!"