Cuba – 2010 thru 2016
Cuba is different. Consider a place – only 90 miles from our border – where there are no ATMs, no American credit cards accepted, no fast-food chains, no American cars newer than 1961, no commercial advertising, no ketchup packets . . .
There are few places in the world that haven't been trampled by tourism or conformed to American sensibilities in order to attract our dollars. Few places in the world where we can't find high-speed internet, pillow-top mattresses or decaf cappuccino. In Cuba, practically nothing works like you'd expect – which is precisely why it's so fascinating – and why we've organized several different (legal) journeys to Cuba since 2010.
Every itinerary has been a little bit different, building on what we've learned from the time before – and avoiding the places that had become crowded and over-visited.
Highlights:
Havana
We dined each night in privately-owned restaurants (paladars), many of which are using furnishings and table settings from old family collections … china, crystal and flatware from your grandmother's era
We were transported in a variety of fun and surprising modes: vintage convertibles, zippy yellow cocotaxis, bicytaxis or horse-drawn carriages
On walking tours of Old Havana we visited museums, Ration Stores, artist's galleries, cigar factories and more – tailored to the interest of the group
We enjoyed a mildly competitive scavenger hunt – to see parts of the city that are a bit off the typical route, see places that are not normal for tourists to visit and learn more about Cuba's history
Some of our dinners included salsa lessons
Vinales
We enjoyed accommodations in a private home (casa particular) in this small rural town
We toured a tobacco farm to see cigar rolling, and watch farmers plow their rich, red fields with oxen – like they did hundreds of years ago
Trinidad
We did a walking tour of this 500-year-old UNESCO World Heritage city
We visited the City Museum during the lunch hour when no other tour groups were there
We visited a "church" of Santeria – the local religion – in a private home and learned about their rituals and beliefs
We hiked into the Escambray Mountains, learning about flora and fauna – ending at a remote swimming pond for a refreshing dip
Sancti Spiritus
When it's impossible to get decent lodging in Trinidad (as often happens), we have stayed in this lesser-known, less-visited 500-year-old city which is within driving distance of Trinidad
We danced with the locals at Casa de la Trova (House of the Musicians)
What our WOWees have to say:
Karen Yasgoor:
"We LOVED our trip with the WOW! Travel Club! It was a life changing experience, no other way to describe it. You deserve the highest kudos for catering to our every need. And the makeup of our group made the trip so memorable. Thanks to everyone for a lifetime memory."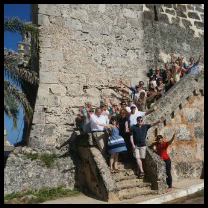 DJ Jackson:
"Marilyn does her homework: Great local guides and fabulous surprise experiences made our trip special beyond compare. WOW! blended the fun and ease of group travel with the excitement and intimacy of off-the-grid experiences. It was perfect!"
Gary Warning:
"The personal attention is incredible and a cut above. WOW! made the trip special by seeking out unique restaurants, bars and spontaneous things to do that immersed us in the culture of Cuba."