Myanmar & Vietnam – 2016
2013 & 2014 – Dining for Women
A country of arresting beauty and proud traditions, Vietnam is both the hustle and bustle of modern life and the tranquility of a bygone time. For Marilyn, it's one of the friendliest countries she's ever visited. And most WOWees came home with a similar opinion. Add a delightfully complex cuisine — a fusion of French-colonial influences and local staples — and incredible cultural diversity, and it's a recipe for the trip of a lifetime.
In 2013 and again in 2014, Marilyn led a group of women on a philanthropic journey to visit women and girls supported by an organization called Dining for Women. DFW is a giving circle: at monthly potluck dinners all over the country, members donate what they would have spent to dine out at a restaurant. These collective contributions fund grants that are awarded to grass-roots NGOs in the developing world that support education, health and economic self-sufficiency for women and girls living in extreme poverty.
Returning to Vietnam with The WOW! Travel Club in 2016, while not expressly a philanthropic mission, the experiences were consistently enjoyable and fabulous.
Highlights:
Hanoi
On a cyclo tour through the Ancient Quarter, we learned about the 36 Streets, divided and named according to their traditional craft guild: Cha Ca (roasted fish street), Hang Luoc (comb street), Bat Su (china bowl street) and Hang Gai (silk street)
Crossing the street in Hanoi was an adventure!
We walked around Hoan Kiem Lake early one morning to watch pajama-clad locals doing their exercise (badminton, Tai Chi, fan-dancing, etc.)
The Dining for Women groups visited a girls' foster home, and hosted them for a Pho dinner and traditional water puppet show
Halong Bay
We spent an overnight on a traditionally-styled junk boat
Days were spent hiking, kayaking and exploring a giant cave
Danang (Dining for Women groups)
We dined on fresh seafood at a restaurant overlooking the South China Sea.
We spent two full days meeting single mothers who were recipients of DFW micro-loans to establish businesses such as a tailor shop, beauty salon, mushroom farm or market vendor.
At a meeting with government officials, who were honored to receive a delegation of American women, they listened intently to the stories and struggles articulated by the single mothers. We believe that our visit raised the profile of the local women we had come to support.
We all gathered on our last afternoon in Danang for a home-cooked lunch prepared by all the single mothers. The government officials came, too!
Hoi An
We took a walking tour through this former 6th century trading post which had been settled by French, Chinese and Japanese traders
We learned to make Vietnamese specialties in a cooking class
We ordered custom-tailored clothes – a Hoi An specialty
We discovered the tiny little Bánh Mi restaurant, recommended by Anthony Bourdain, and enjoyed one of the best meals of the journey – for just a few dollars!
What our WOWees have to say: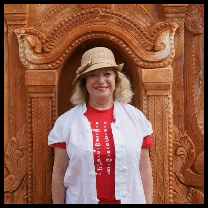 Susan Rosenberg:
"A memory from Myanmar: I looked up at the blue and white sky and felt so grateful for these moments, the unique experiences and the wonders of it all. I was bursting with happiness."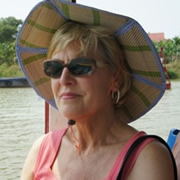 Rannie French:
"Our trip was the best ever! I absolutely loved meeting the people and experiencing the landscapes, city scenes and countryside. You did a lovely job of planning; supplying us with plenty of guidance, humor, interesting experiences; and, of course, cookies and special "treats." (I'm remembering when you stopped the bus and bought us sticky rice concoctions!")